Deciding which materials are best for the job...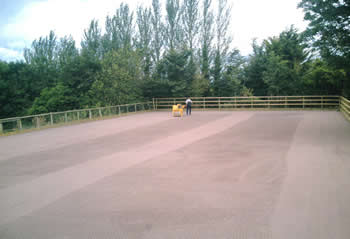 With over twenty years in the business, C & R Herbert has extensive experience and is happy to offer professional advice regarding which materials will be most suitable for the proposed site. Materials can be supplied separately, or mixed - for example, sand and fibre, sand and rubber, or a mixture of all three. Care is taken to ensure that the materials supplied are the most appropriate for the type of horses that will be using the surface. We can supply virtually any riding surface and all draining stone.
Silica Sand
A silica sand arena is ideal for a basic surface, and can be easily mixed with other materials at a later date. Silica Sand and rubber This extremely popular surface combines sand with small pieces of rubber which is extremely durable, offers greater performance and is suitable for outdoor use. This is a good multi-use surface. We also offer an excellent indoor mixed surface.
Shredded Carpet Fibre
This surface is proving increasingly popular in competition yards. Available baled at 3 bales per ton, shredded carpet fibre can be added to existing sand surfaces, or combined with new sand surfaces. It allows horses to ride on top of the surface, giving a much firmer, springy ride.
All-in-one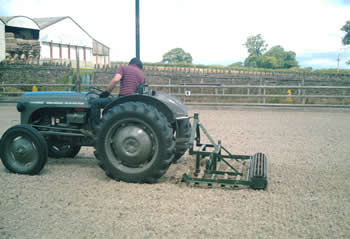 An excellent 'All-in-one' all-weather surface consisting of a sand and fibre mix offers a constant thickness of 5-6 inches. This special surface won't ride loose in dry weather because the fibre retains the moisture from wetter conditions, so it stays firm and springy. As it is pre-mixed, it is easy to lay and low maintenance.
Maintenance
"What if my arena just needs loosening up or rolling?"
We are happy to come and give your arena a freshen up, and have a classic fleet of vehicles and equipment to make your arena as good as new.
Delivery
"How are the materials delivered?"
C & R Herbert will deliver all the materials required to construct an all-weather riding arena, gallops or manege, including drainage and base stone, blinding grit and any riding surface. We can also offer competitive contacts for discount prices on membranes and drainage pipes.
Logistics
"What if my location is difficult to reach?"
Don't worry! Short wheelbase, six-wheeled tipper lorries are used for hauling all the materials - these are specially designed for accessing difficult or awkward sites. The vehicles also have double-drive rear axles with special tyres - this gives them extra grip for driving across fields and loose surfaces, so the materials can be tipped near to any site.