Testimonials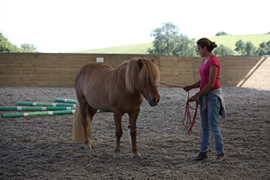 The surface for our indoor arena has been down for almost two years and is wonderfully easy to maintain. It looks as good as it did when it was first installed. We host clinics for TTouch UK here at Tilley Farm and a part of the work involves ground work for horses and dogs. Every participant on the courses has enjoyed working with their animals on a surface that is kind on humans legs too.
It provides excellent support for our horses whether they are jumping, schooling, doing free work or being worked in hand, and never gets too deep. Many horses nap when asked to enter an arena; whilst this can be due to many reasons including poor tack fit, stiffness, fear of the unknown, schooling difficulties, a poor and/or deep arena surface can also be a major contributory factor.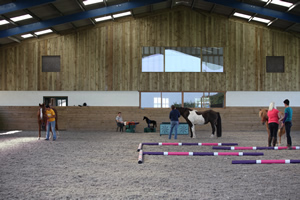 Every horse that has been in our indoor school has enjoyed working in what we consider to be a very inviting environment. Dogs enjoy their training too and mad, exciting, canine free play has not had any detrimental effect on the surface at all. We cannot recommend C and R Herbert highly enough. They are professional and courteous, and provide an excellent service that offers great value for money. Their surface is one of the best investments we have ever made.
Sarah Fisher and Anthony Head
Farmborough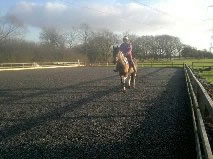 While investigating the possibility of renewing my arena surface I decided to ask around and see who the best person to do the job was. Calling many people that had new arenas within the last 5 – 8 years and time and time again the name Chris Herbert came up...mmm I thought who is this chap that everyone is raving about? I gave him a call and explained that I needed to have a new surface and Chris came over to have a look at what I already had.
Chris and his son Allan advised that I have sand and rubber as I used my arena often but could maintain it easily. They came and removed my old arena surface and were very clean and tidy workers not stopping every 5 minutes for a break, but hauling many tonnes of my old surface away until I was left with a blank canvas. Once work commenced Chris explained what was happening every step of the way and never left a mess, they were extremely professional and worked until the job was completely finished my new surface is beautiful and I would highly recommend Chris to anyone who wanted to have a new surface, safe in the knowledge that Chris has many years experience of laying riding arenas and will not rip you off. A very professional family run business.
Wendy Barke
Winterbourne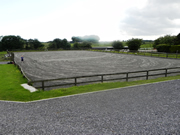 Chris was careful to ensure we had the correct surface for our particular use and location, and it has worked perfectly.
What makes him stand out from other companies is that he will pop in from time to time when he is passing to look at the arena and check it is still working well. How many other businesses will offer that kind of personal service?
Jason Somerville
Farrier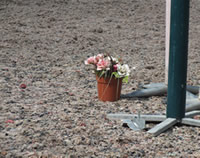 We have used Chris and Allan Herbert for over twenty years and they have always provided helpful, knowledgeable advice on the best and most economical way to maintain our indoor and outdoor arenas.
Nothing is ever too much trouble, and they are always reliable and meticulous in their work ethic. We cannot speak highly enough of their service.
We have recently rented a yard with a sand arena which was really not workable. As i didn't own the yard, I asked Chris what he could do to improve it on a budget. He mixed in stabilising sand and rubber and kept the costs practical and affordable.
They came within a week of my call and the job was done in a day and half. The surface rides 100 times better and I am delighted with the kindness and help Chris has given me.
Tina Burrows
Dressage Rider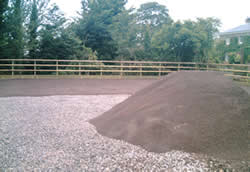 We use a sand & fibre arena surface from C & R Herbert and we are very pleased with the way it rides. It is low maintenance and doesn't 'move around' so the surface is consistent. However, it also doesn't impact into an unacceptable hard surface and the horses don't trip or slip. We ride and loose school on this surface, sometimes with groups of horses and ponies. It's an impressive surface and we can recommend it.
Equine Tourism
Chris put in a new arena for me with a Protrack surface, which works really well for my dressage horses. He gave me the right advice for which surface would suit us, he did what he said would and came when he said he would. Most importantly, I always felt that if I did have a problem I could always ring him and run things by him.
Julie Legg
Equitocks
I had an existing arena which my grandsons use, but it had become very hard and compacted. A friend recommended C & R Herbert and Chris came very promptly when I rang. He gave me honest, practical advice about what would work well at a sensible price, and the work was done within days. The surface is fantastic and my grandsons are jumping higher than ever!
Judy Pearce
Chelwood